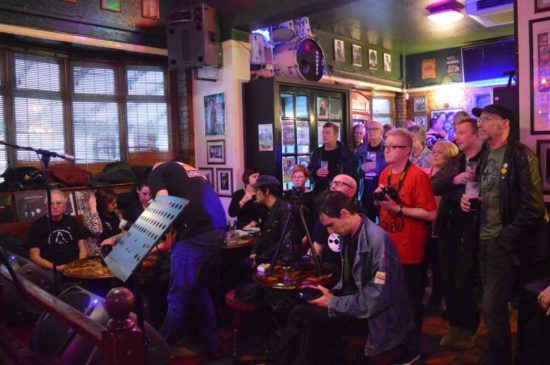 The Cavern Pub is full of people, we Italians are perhaps the last to arrive in this human community that has existed for a long time and that welcomes us with sympathy and a certain amount of curiosity.
The historical group of English and Dutch friends has maintained contact during the years, there are familiar faces that crowd the pub, some of them we know for some time, others we have only heard of.
I immediately greet James Ingham and his girlfriend, and then Patrick Rowles, with them I am in good confidence, we met in 2011 during my first interview at Robert Borland's home, to make the book.
Jean-Paul Van Mierlo arrives with his wife, we met in 2016 in Amsterdam during the wonderful evening of the presentation of the film at the International Documentary Festival (IDFA).
Audrey Eade does the honors, introduces us to other people, friends, wives, husbands, enthusiasts. The place is noisy and our difficulties with understanding English penalize us a little. I'm excited, I get confused, there are people I can't immediately frame, I don't realize for example that Robert, with the red jersey, who also went on stage during the first set with Elliot, Jan and Bob, is Audrey's husband, I find out the day after the concert, when I find myself with fifteen of them, and with him, at the Merton & Sutton Cemetery, in the Morden area, to bring our greetings to Adrian.
In the pub there are several gentlemen who are pleased to meet us Italians, all tell us something, tell us what part they had, as young people, in this collective story. On the stage, an elegant and elderly gentleman comes up, he introduces the bands and officially opens the meeting. He is one of Adrian's oldest friends, perhaps his own classmate, he is about the same age, his name is Peter Trower, the next day he is with us at the cemetery.
Back in Italy, Facebook helps me to reconstruct the puzzle made of faces, informations, stories. From 2011 to 2016 I collected a lot of material to write the book, and of course also many images. There is one that dates back to the summer of 1992, Adrian is on holiday in Crete with two of his friends: I only find out now that it's Peter Trower and David Hawkins.
David is also present at the Cavern, and with us too, the next day. We speak little, but then we do a nice stretch of road together on foot, towards the bus stop, just enough to introduce ourselves, to say who we are, where we live, to mention our jobs, our normal Italian life that we daily conduct, with Adrian's music we let it flow in mind as a permanent soundtrack.
We also meet Elliot Wheeler physically for the first time, but we know him better thanks to the more frequent contacts on Facebook already made in these years. Elliot has a particular visibility, has played with many groups and is socially very active.
Next to Audrey in the pub is a beautiful girl, typically English, blonde and smiling, talking to me and the Italian ladies, but even in this case I don't totally understand what she wants to tell me. Marina then tells me: "Ehi look, she is I.V. Webb, who sang with Adrian on the Cinematic record, also collaborated with Dead Can Dance, has a wonderful voice".
What a pity, I had been more lucid and concentrated, I would have asked her a thousand questions, I would have asked her many things.
But the best meeting is with a gentleman who approaches me and thanks me for making the book, some of his friends introduce him to me, "he is Rick Hussey", and when I hear his name I immediately understand, he was the technician of the lights of the band, in my book there is a photograph that shows him with Max Mayers, Mike Dudley sent it to me. So I rush to get a copy of the book, I put some in the vicinity of the stage, I want to give it to him, I insist, but he tells me not to worry, and to want to be the one to deliver to us, to me and to Jean-Paul Van Mierlo, some old materials concerning the band, he takes them to the hotel.
We sit outside the Pub, talking, a photographer appears, his name is Alan Bell. "He is the photographer who made these famous photos of Adrian, look!" Jean-Paul tells me. These are the photos of the last few years, those of the publication period of 5: AM.
Alan Bell asks us to be able to photograph ourselves, Rick Hussey and me, Jean-Paul and me. We talk and deploy all together, amiably, there is a beautiful atmosphere, a happiness that unites us.
"Max was a great person" says Rick, "a very dear friend to me".
The conversation is pleasant with everyone, but the concert is there on stage to attract our attention, it's difficult to reconcile the excitement of live show with public relations.
After Kevin Hewick's performance I approach him and introduce myself, he seems upset, maybe there is something about his show that didn't satisfy him, but it's only an his personal feelings that we can't grasp, for us it was pure adrenaline. We hug like old friends, he gives me two of his CDs that I now jealously keep.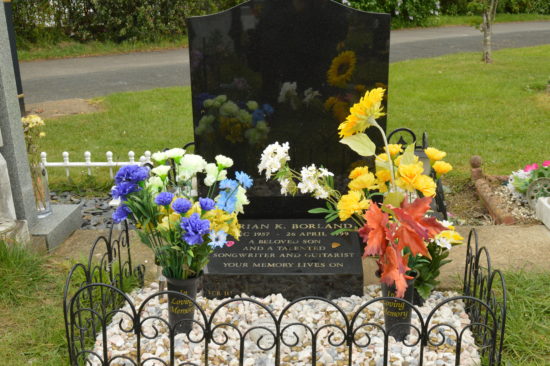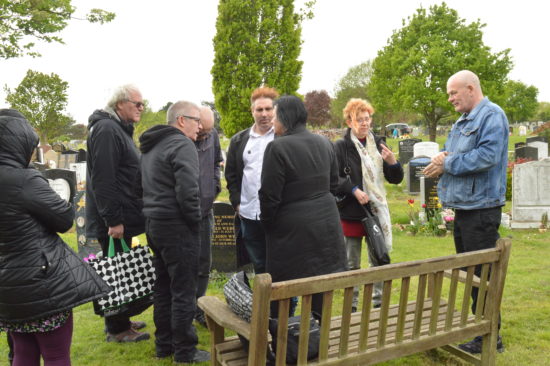 The following morning also Kevin is with us at the cemetery, each hands Adrian a flower, someone deposits the guitar pick on the tombstone, someone else, like me, remains absorbed in his thoughts. Twenty years have passed since the death of this dear common friend.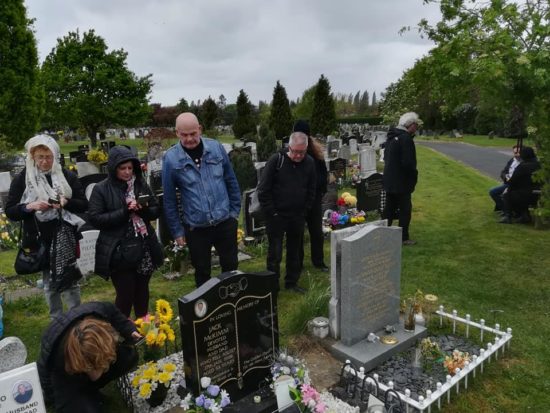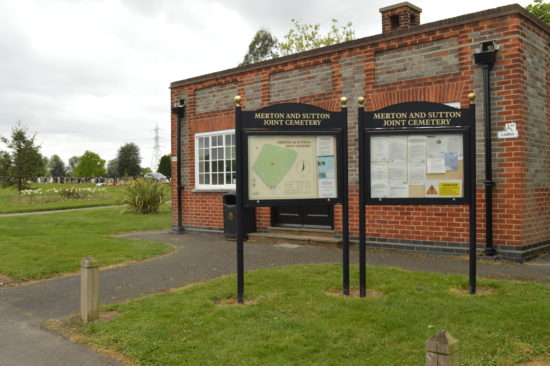 The faces of each of us now show the signs of a life that has gone, but whatever happened it was an adventure, an inevitable path, with all its baggage of pains, defeats, failures that break us down, but then, when the love, friendship and passion pervade our eyes, even as short flashes, it returns the emotion that is the salt of everything, and brings us back to the unshakable things we love.
Giuseppe Basile © Geophonìe
11/06/2019 – Diritti Riservati